Home > Products > Photodiodes > Multiple PDs
Multiple Photodiodes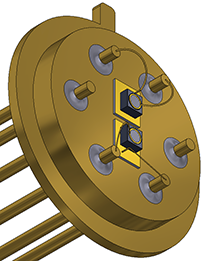 Multiple PDs (PDM) for the mid-IR spectral range become a new component base for portable optical sensors for gases and liquids. Such PDs are miniature and highly efficient.
Main applications:
- Diode-Lasers spectroscopy;
- Laser rangefinding and location systems in the eyesafe spectral range;
- The free-space optical links;
- Communication systems based on fluoride fibers with loss of 10–2-10–3 dB/km;
- Environmental monitoring;
- Medicine;
- Remote non-contact temperature measurements;
- Detection of the burning or explosion products.
---
Multiple PDs:
3-element PDs
4-element PDs
---