Home > Products > Light Emitting diodes > Multiple LEDs > 2-element LED
Multiple Light Emitting Diodes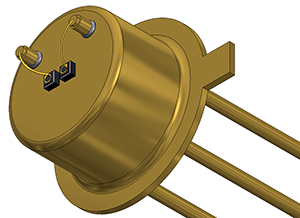 LEDM with two different emitting elements (chips) in TO-18 package have been developed by IBSG Company for detection of various gases. LEDM includes a measuring emitting chip with wavelength λ1, as well as a reference emitting chip with wavelength λ2. The Company offers different combinations of elements as the technical problems require. Manufacturing of multiple LEDs is made to individual order.
---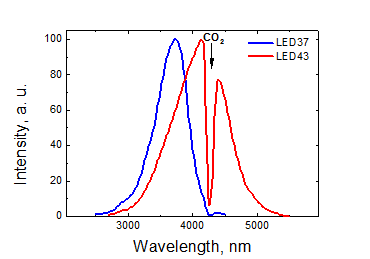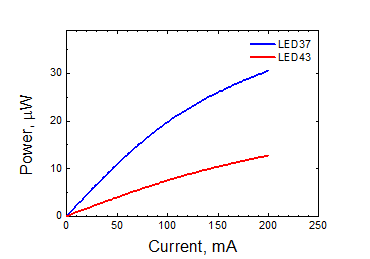 Figures present the spectral characteristics and the power vs. current dependence for the two-element LEDM designed for the detection of CO
2
. LEDM4337 consists of two emitting elements: measuring chip (LED43, λ=4.3 μm) and reference chip (LED37, λ=3.7 μm). The elements can be connected independently of each other.
---
2-element LEDs
Model*
Measuring wavelength λ1, µm
Reference wavelength λ2, µm
Detected gas
LEDM1915
1.94
1.55
steam
H2O
LEDM2015
2.06
1.55
LEDM2315
2.34
1.55
methane
CH4
LEDM3429
3.34
2.9
LEDM3629
3.6
2.9
formaldegide
CH2O
LEDM3829
3.8
2.9
hydrogen sulphide
H2S
LEDM4337
4.27
3.7
carbon dioxide
CO2
LEDM4637
4.67
3.7
carbon monoxide
CO
*Manufacturing of multiple LEDs is made to individual order
---